Start Selling on the Platform Today!
Whether you're a Gamer, Coach, Booster, Streamer, Game Developer or Game Creative – StackedGame makes it easy to sell all your skills and maximize your earnings.
Sell different types of Marketplace Items to suit your buyers:
Downloads
Services
Bookable Sessions
Or Combination of these 3 Types!
Upload Guides & Articles and promote your Marketplace items in the "Related Items" sidebar. You can also upload Events & Meetups to help build your profile and community.
Uploading to the site is made easy from your Seller's Dashboard. There you can also check your Sales, Earnings and much more. Earnings are paid fortnightly into your nominated account as per our Terms of Service.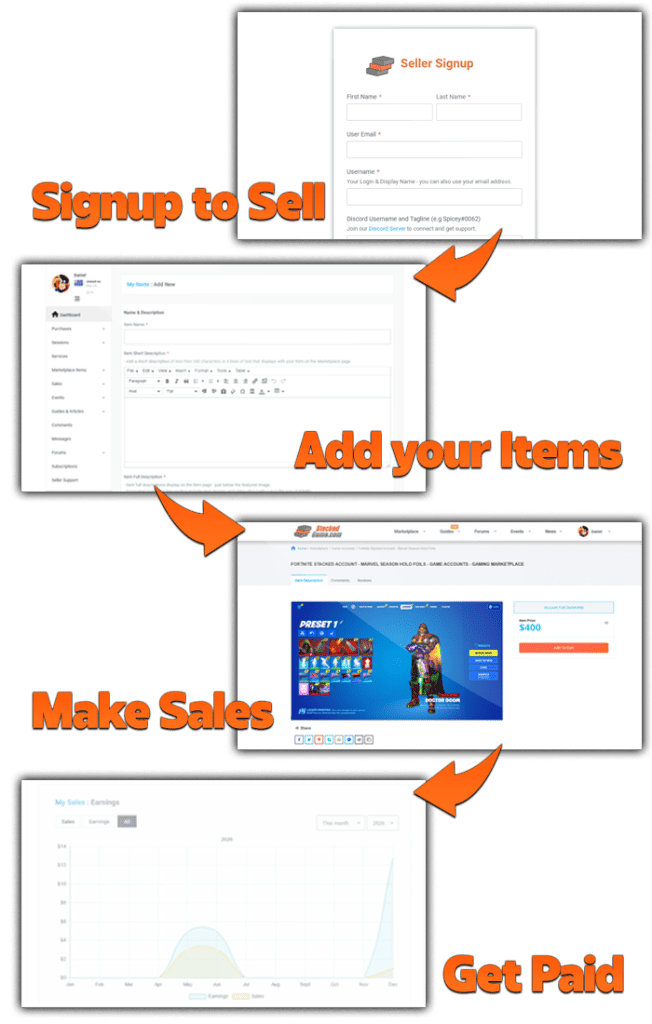 For more information on Seller related features check out the Sellers Help pages. If you need help – Reach Out or contact us on StackedGame's Discord Server.
Why Sell On StackedGame.com?
StackedGame.com is a new marketplace for all things Gaming – with some really cool and unique features:
Joining & Listing Items is Free – there no cost to be a Seller and adding your items to the Marketplace is also free.
Low Marketplace Fees – we aim for the low fees when you make a sale – so this means Sellers get more $$$ in their pocket.
Seller get access to all features – from sign-up all Sellers can upload a full range of content types – no tiered access.
Dedicated Gaming Marketplace – for Gamers and operated by Gamers.
Marketplace with multiple "Delivery Options" – suits how Buyers and Sellers want to interact for Gaming related digital products.
Uploading process is super easy – upload a range of Items, Guides, Articles and Events within minutes from your Seller's Dashboard.
Marketplace Items can be promoted with Featured Video, Featured Audio clips and Preview Images – that display on the Marketplace and Item pages.
Sellers can promote their own Items – by uploading free Guides & Articles and selecting their own "Related Items" to feature in the post's sticky sidebar.
Sellers can publish Events & Meetups – in the StackedGame Global Events Calendar.
StackedGame also has a linked Discord Server – making it easy to interact and engage with your Community.
Seller Levels & Marketplace Fees
Low Marketplace Fees – low fees compared with other comparable digital product marketplaces.
Simple Marketplace Fee Structure – % of Sales Value + 30c Transaction Fee.
Marketplace Fees are only deducted from Sales – Sellers can also track their Earning in their Seller's Dashboard.
Marketplace Fees covers both the Marketplace and PayPal purchase processing fees – included in the one Marketplace Fee (table below).
3 Seller levels – Bronze, Silver and Gold. New Seller's are approved at Bronze level and are promoted based on their total sales.
| | | |
| --- | --- | --- |
| Seller Level | Total Sales | Marketplace Fee |
|   Bronze |   – | 12%* |
|   Silver |  $5,000 | 11%* |
|   Gold | $25,000 | 10%* |
* Plus 30c Transaction Fee per transaction.
* Seller's earnings payment processor fees are paid by Sellers deducted when paid-out.
* No additional Buyers Services Fees. Buyers pay what Sellers price their Item at.
 Seller Signup
Already a Seller? Log In here.
By signing-up as a Seller, you agree to our
Terms of Service & Privacy Policy.